Map
The Biblioteca degli Alberi is the green heart of Porta Nuova's skyline. Without fences, it connects Piazza Gae Aulenti, the Isola district, via Melchiorre Gioia, and the green Varesine Promenade.
Find out more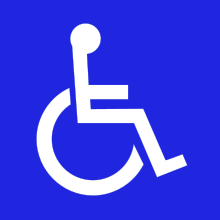 Accessibility
Biblioteca degli Alberi is wheelchair accessible from via G. de Castillia, piazza Gae Aulenti, and the passeggiata Veronelli.
The tables in the garden picnic area are wheelchair accessible.
The kids area has also been designed for children with disabilities.
Stations
Garibaldi Station
Central Station
Metro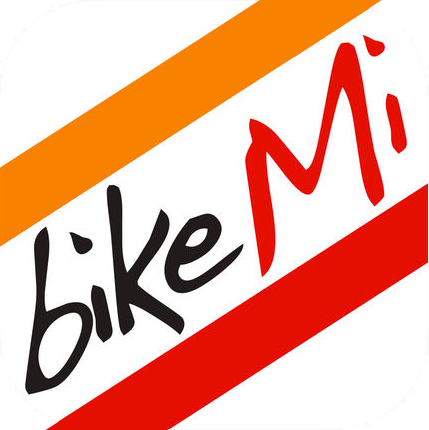 Bikemi
91 - Gioia - Pirelli
104 - M. Gioia - "Regione"
194 - Borsieri - Confalonieri
197 - Garibaldi - Sturzo
198 - Garibaldi 2 - Sturzo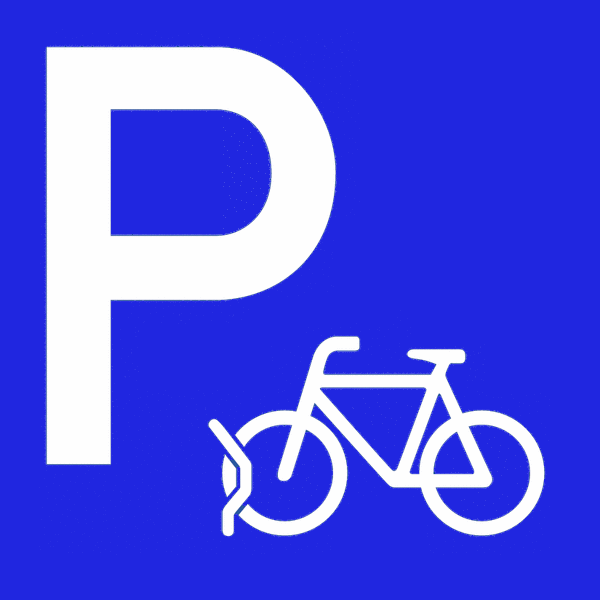 Bike parking
Public Garden Bike Rack de Castillia 28
Bike rack via de Castillia 26
Bike rack piazza Gae Aulenti 1
Bike rack piazza Gae Aulenti 2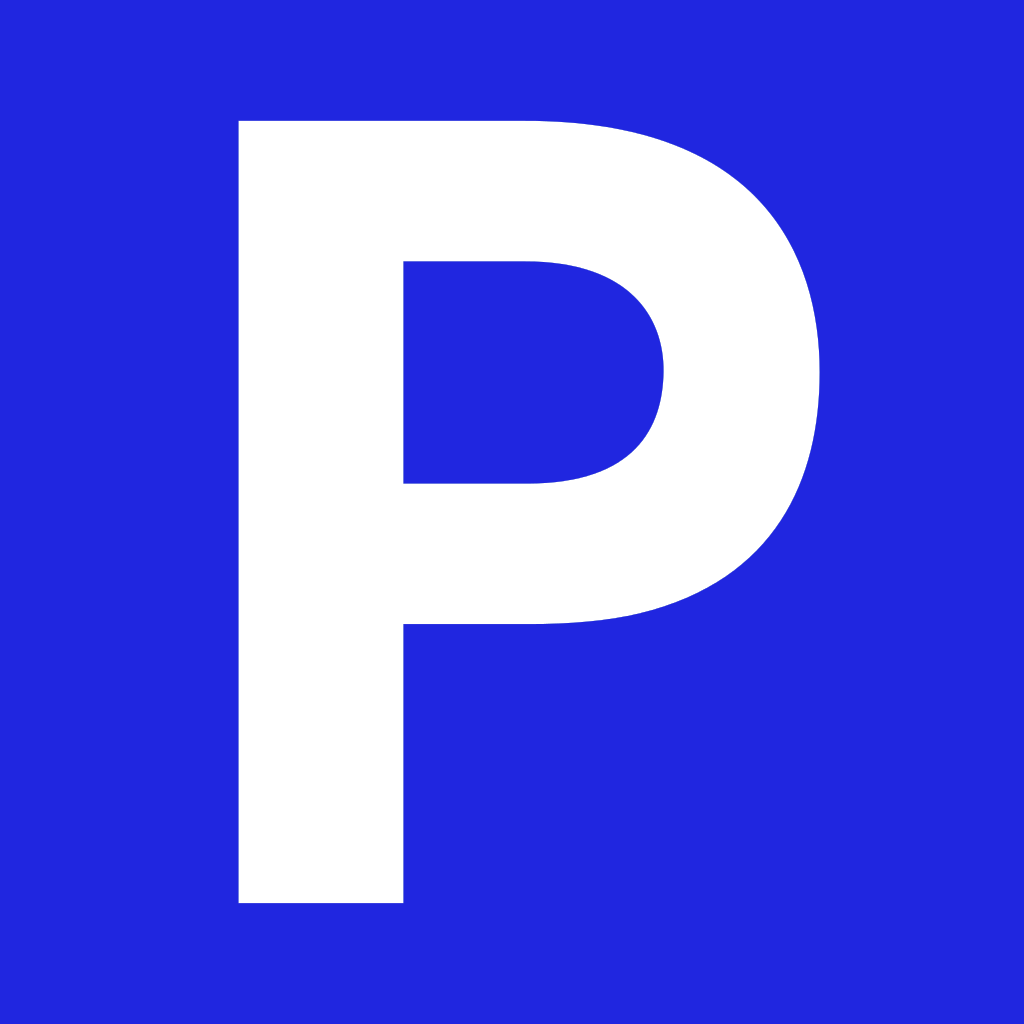 Parking
Porta Nuova Varesine Underground Car Park
Porta Nuova Garibaldi Underground Car Park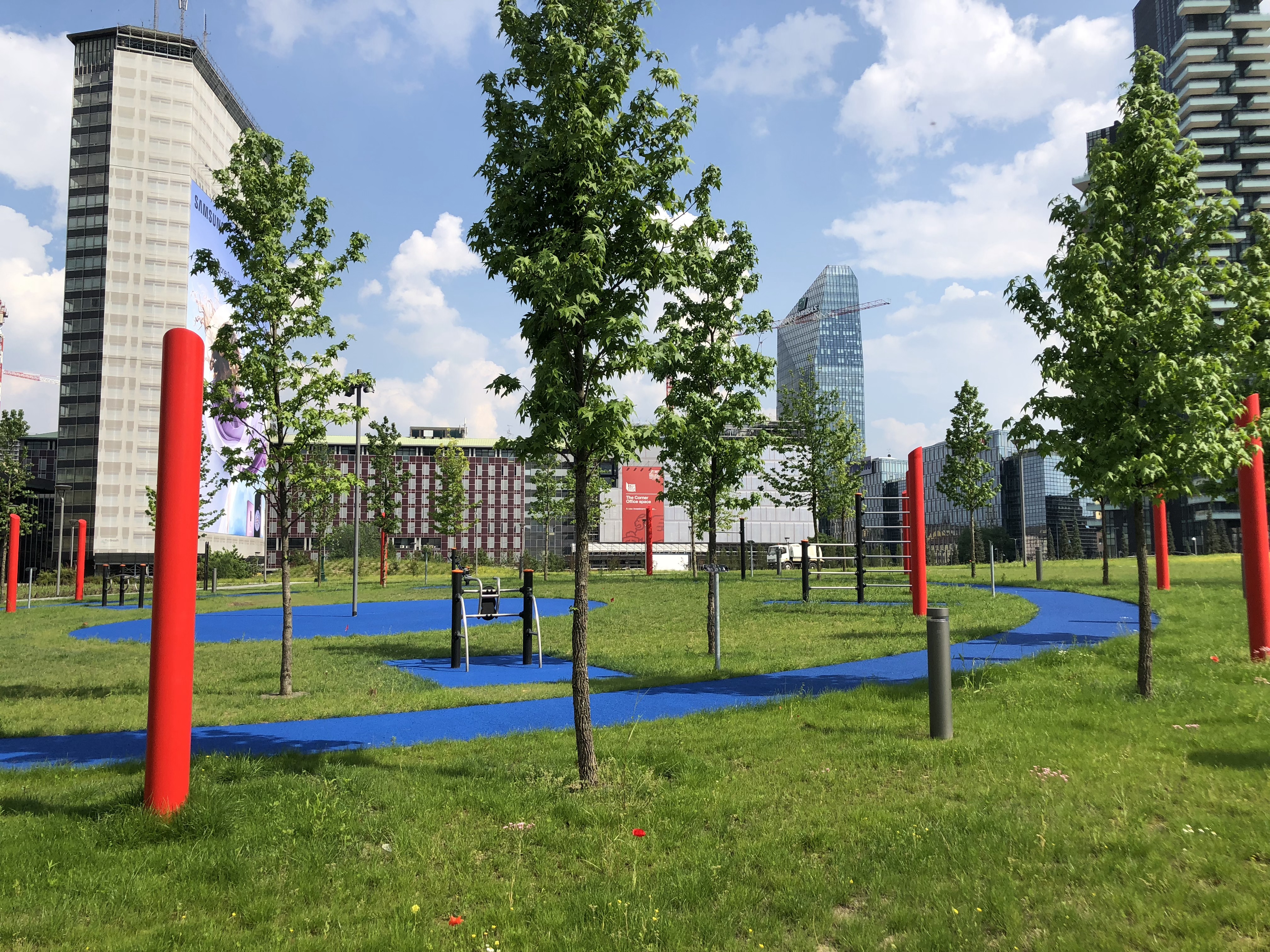 Fitness area
An area dedicated to outdoor sports activities in the Liquidambar Styraciflua circle. Seven gymnastic tools for muscle building, cardiovascular training, balance, and stretching. Take care of your physical and mental well-being in the midst of greenery.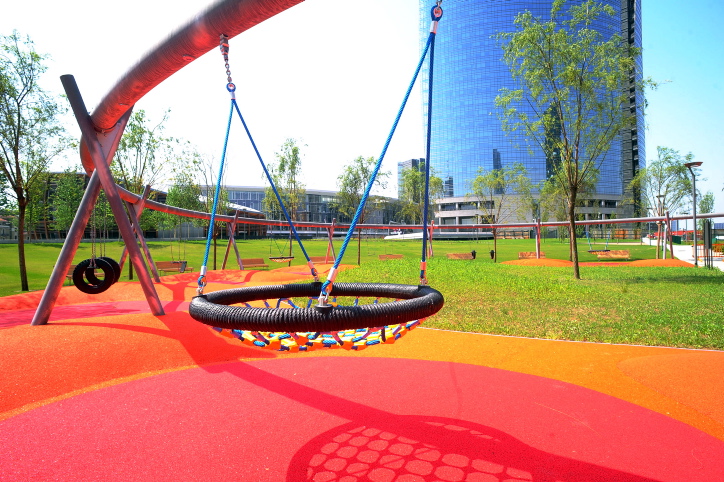 Swings Space
A contemporary design play area in the setting of the Salix Babylonica. Equipped with anti-trauma rubber flooring, it offers equipment for children of all ages: nest swings, with seats, tires, nets, and ropes for climbing.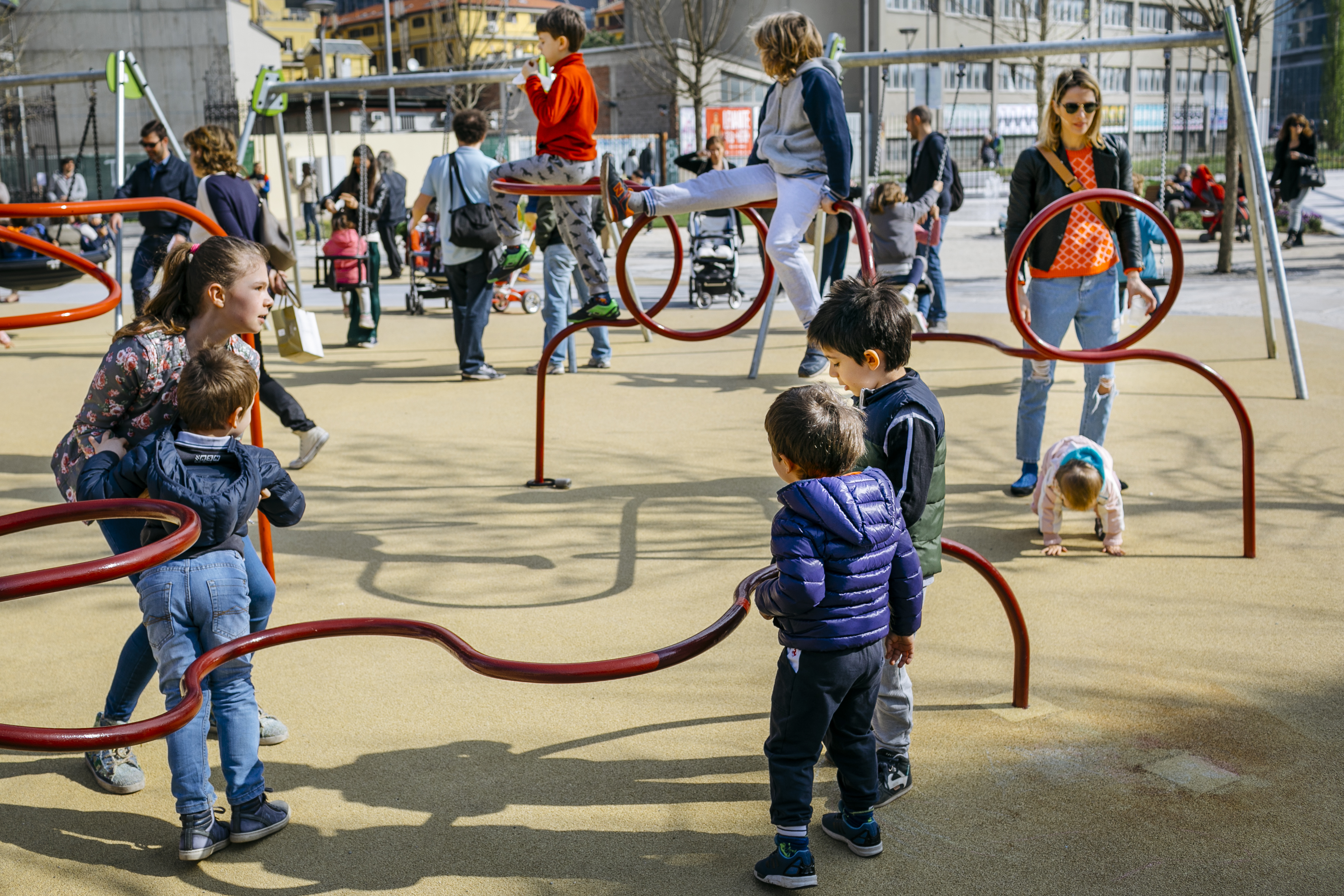 Kids Space
In the Fraxinus Excelsiour circle, the kids area in front of the Riccardo Catella Foundation headquarters offers a space for play on anti-trauma rubber flooring, also accessible to children with disabilities.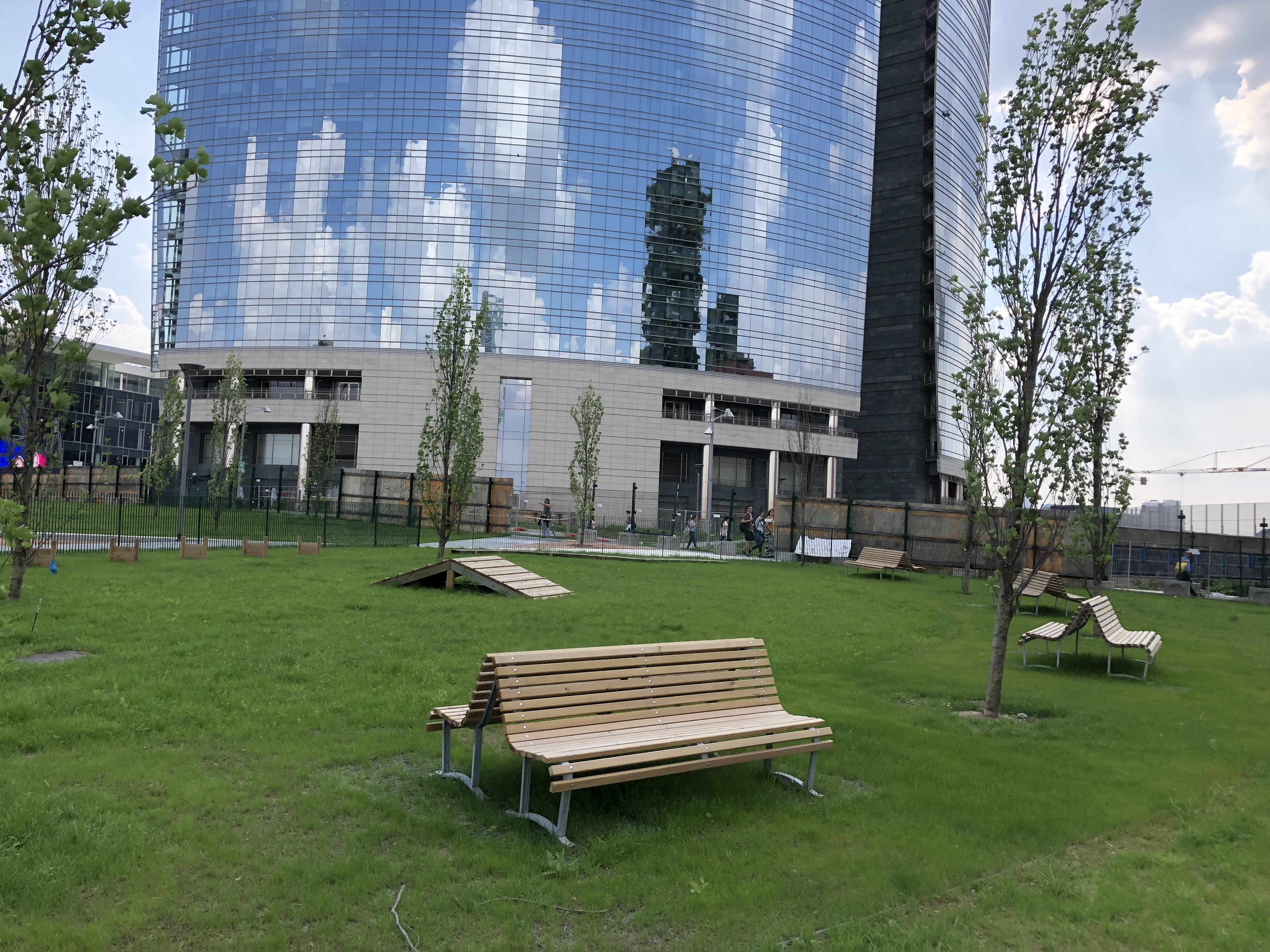 Dog Areas
The areas equipped for dogs are located in the vicinity of the Liriodendron tulipifera and Pyrus calleryana circles. Equipped with a reinforced lawn for pedestrian access, wooden benches, sandboxes and equipment for dog agility: a five-stage course to develop dogs' balance.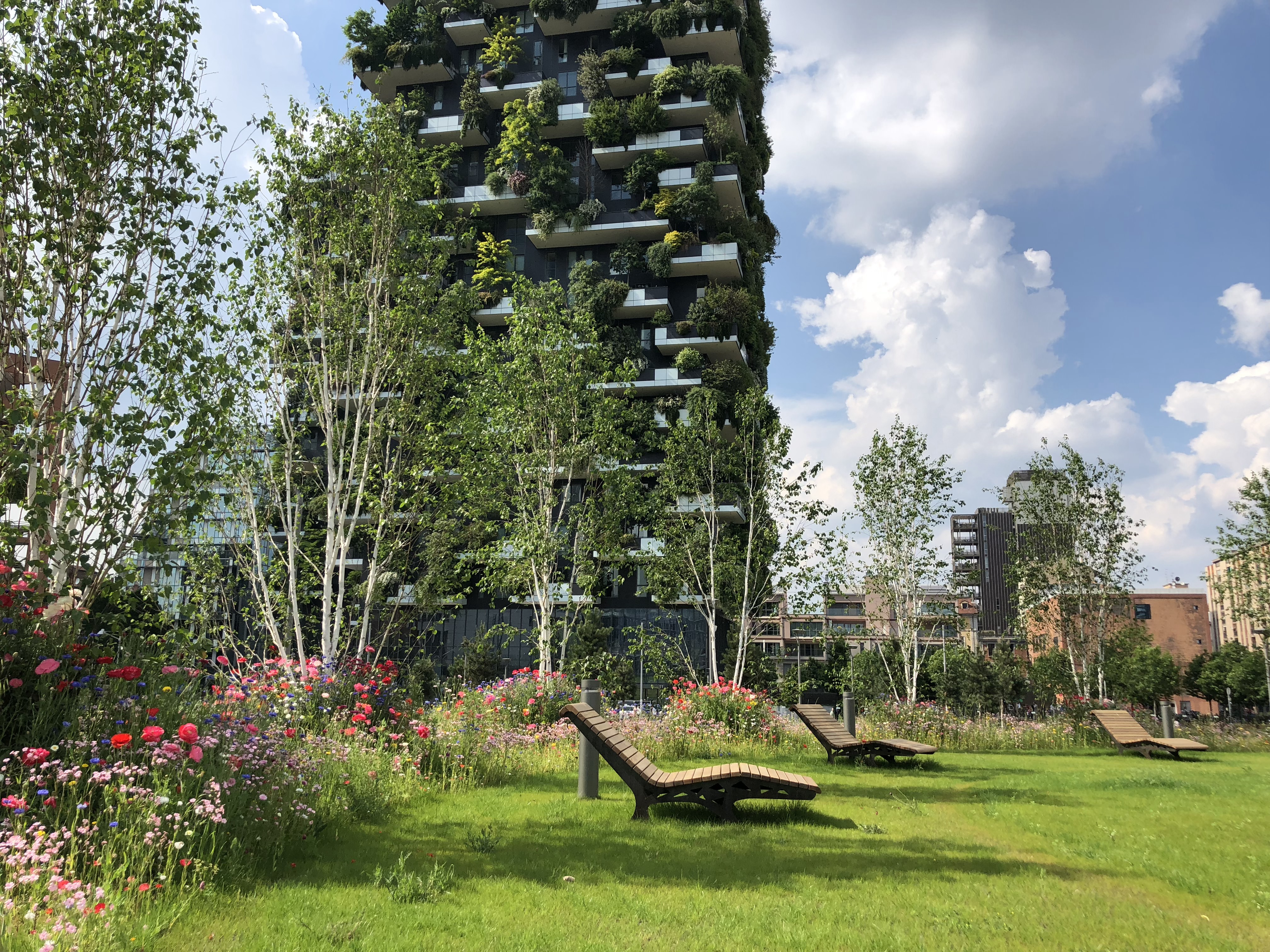 Relaxation area
Outdoor lounge in the Betula Utilis circle with wooden chaise-longues and diffused lighting for reading and relaxation in the park.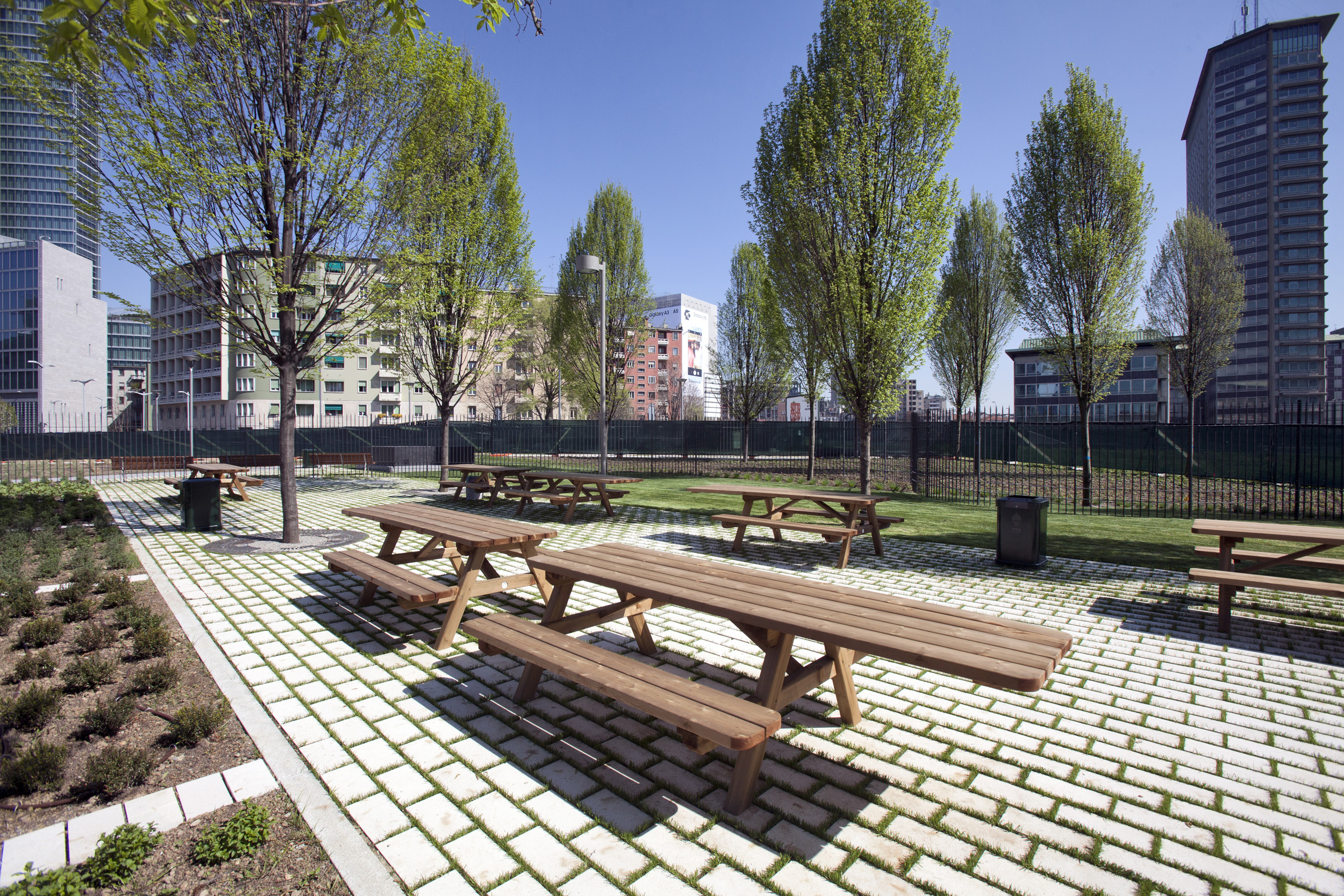 Picnic area
In the shadow of the Carpinus Betulus there is a dining area with wooden tables and chairs, also accessible to wheelchairs.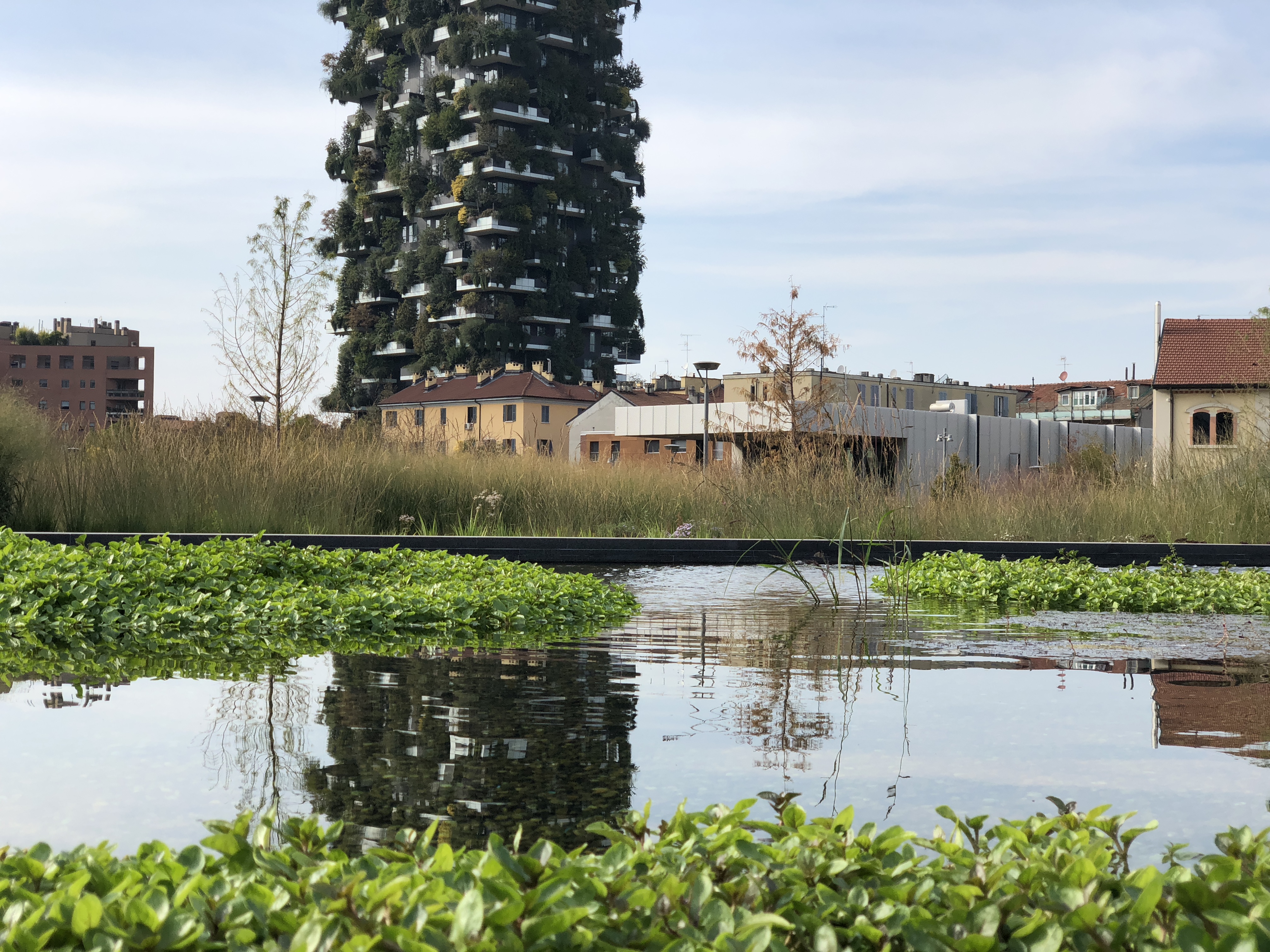 Pond
A bio-lake that hosts different types of aquatic plants to create a favourable environment for the arrival of all forms of animal life that habitually frequent these habitats. The first dragonflies have already been seen!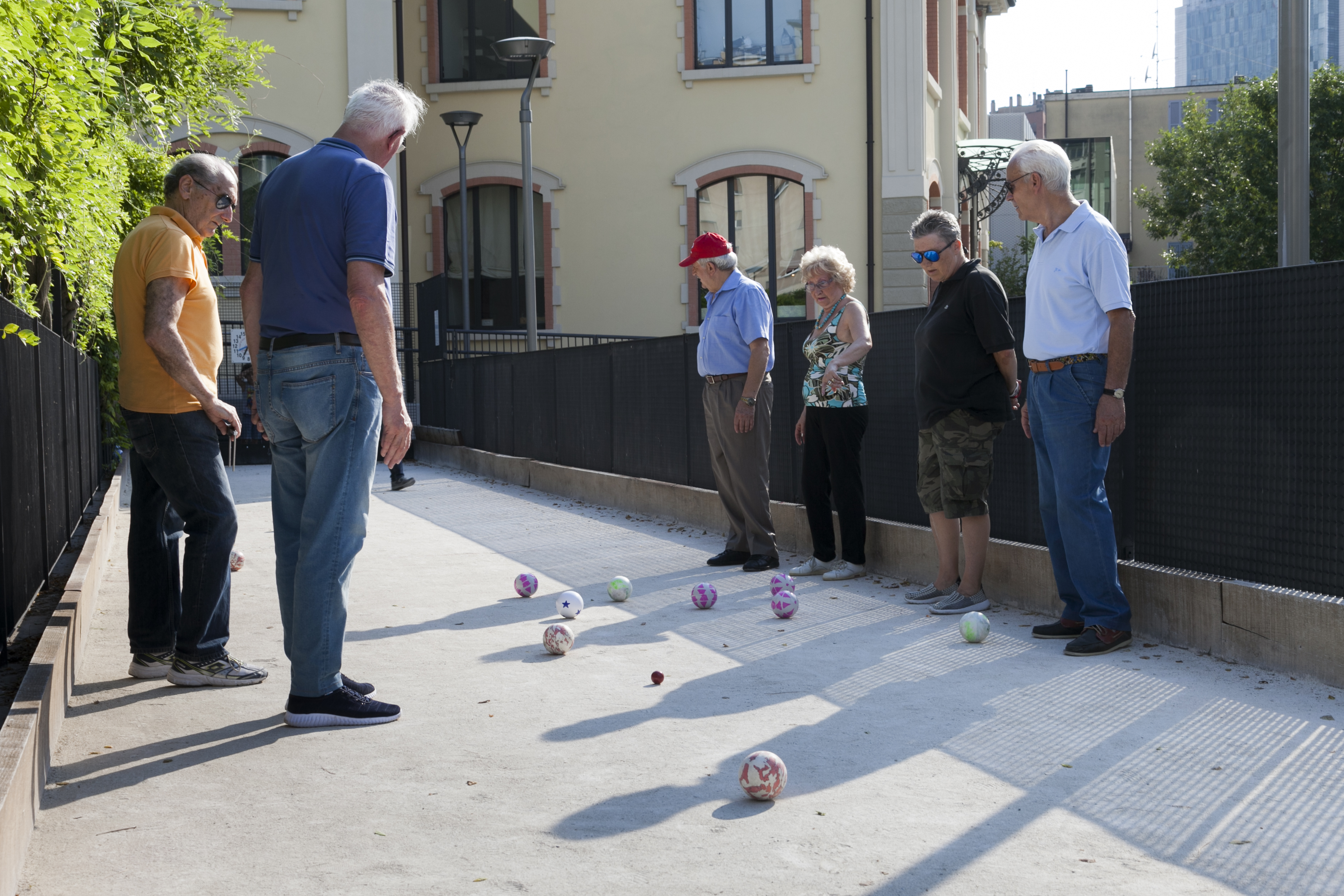 Bowling Greens
Two bowling greens separated by a reception area covered by a vine pergola.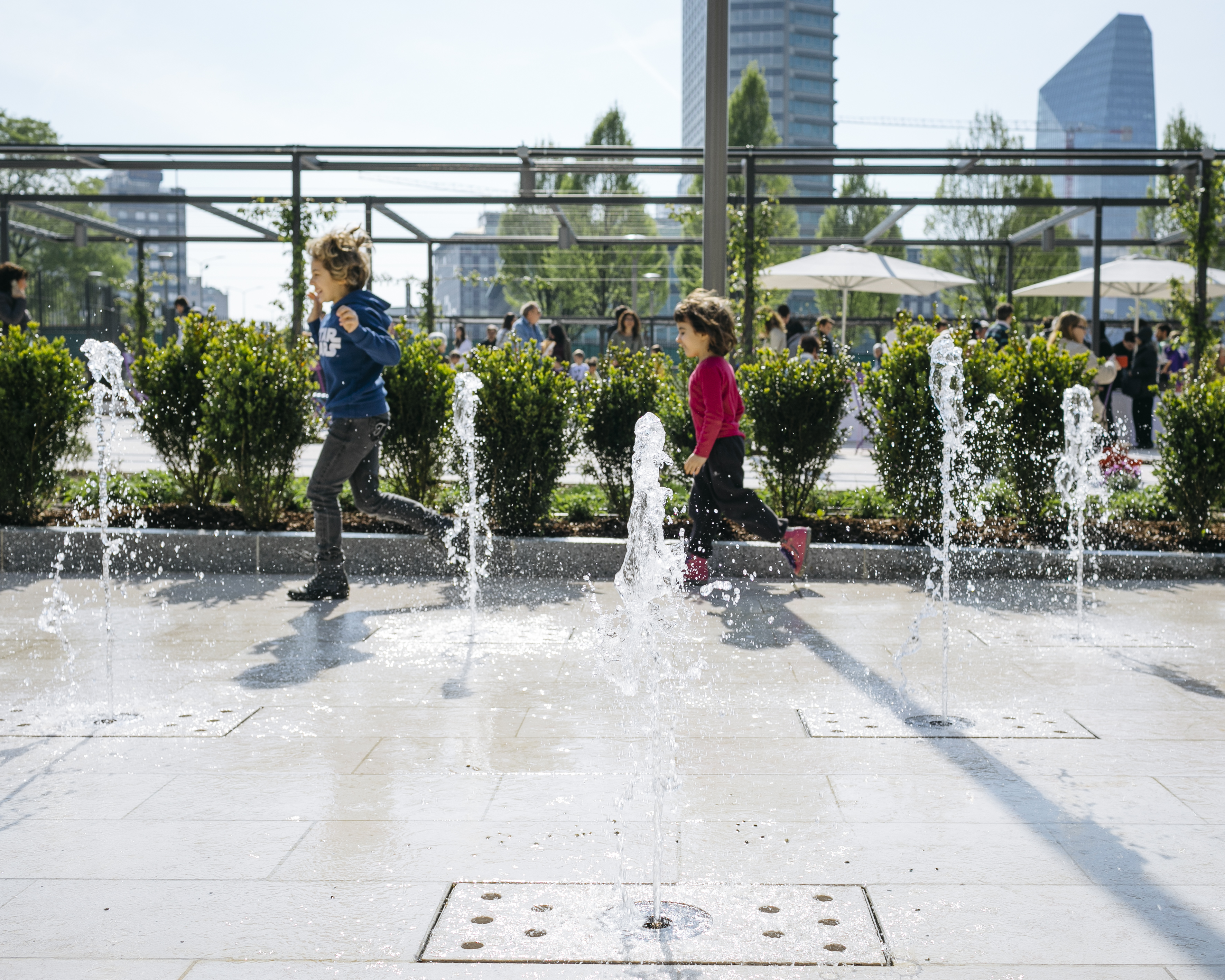 Water Features
Dynamic fountain with water features and night lighting with colorful LEDs with a picturesque effect. Active from May to September.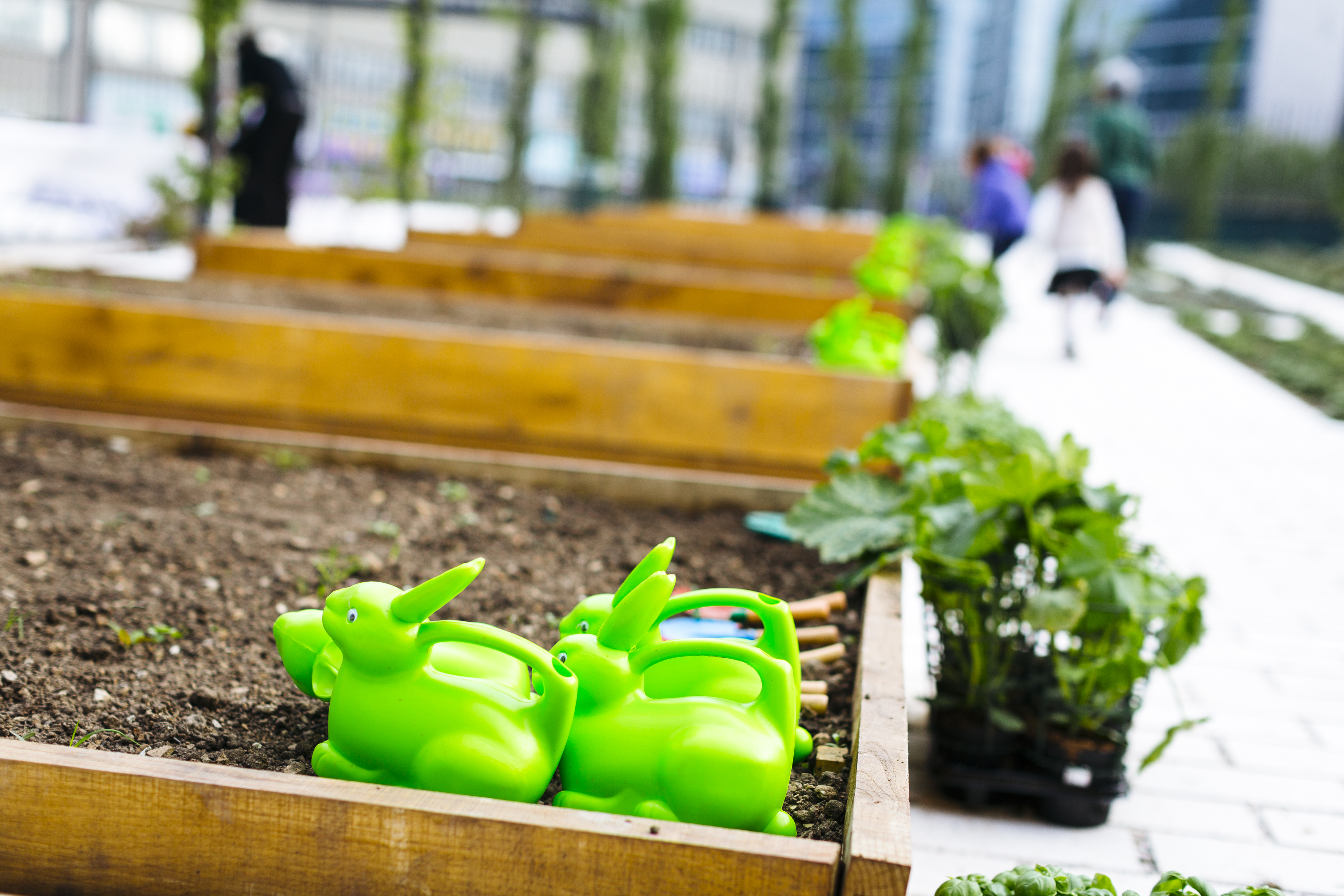 Vegetable Plots
Seven educational plots in crates for cultivating vegetables, fruits and flowers, and for recreational activities. The plots are located near the aromatic herb fields with sage, thyme, rosemary, lavender, and mint.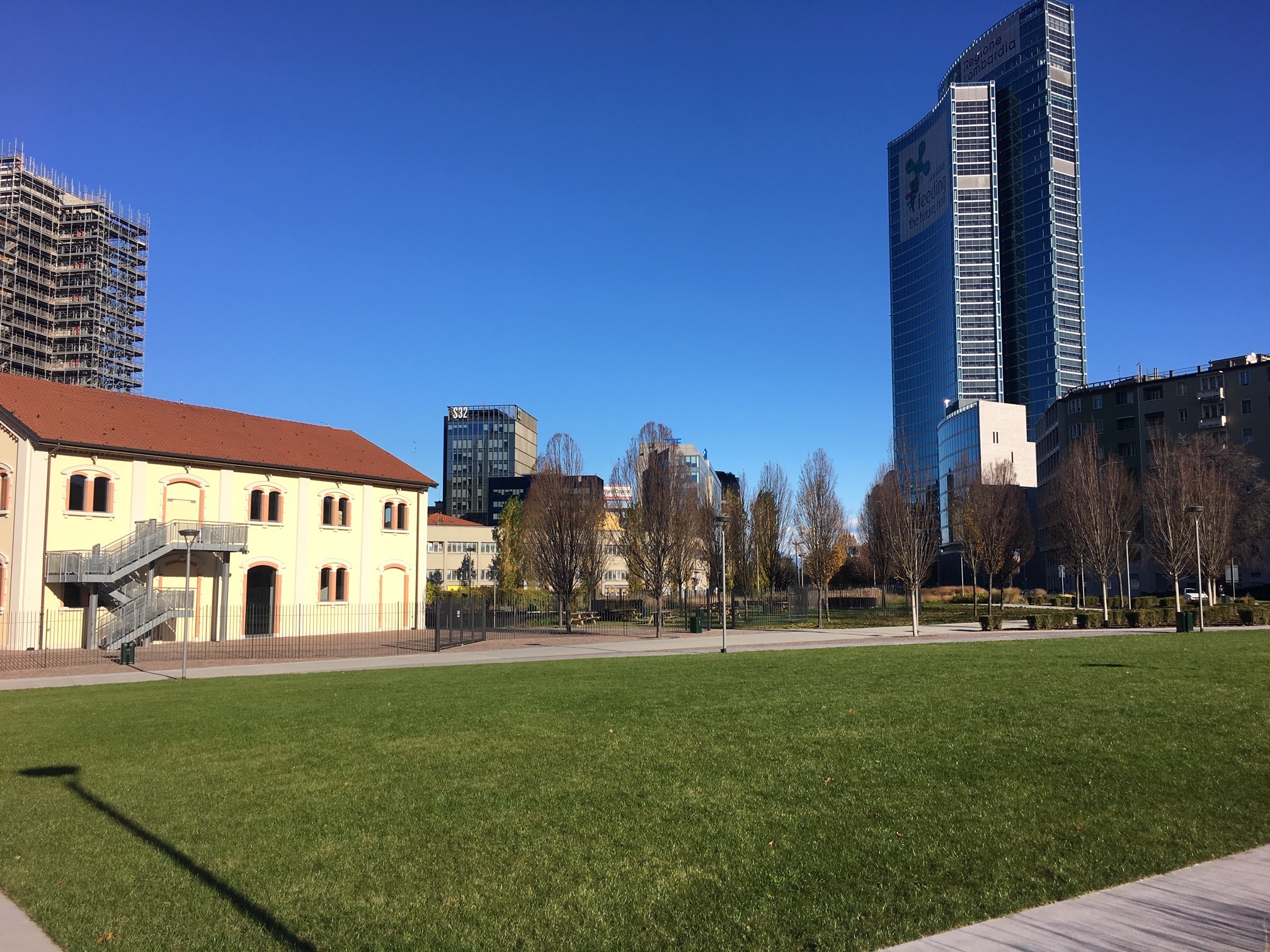 Hornbeam Area
In the vicinity of Carpinus betulus, an area mowed lawn of c.a. 1200 sq. m. for the BAM cultural program.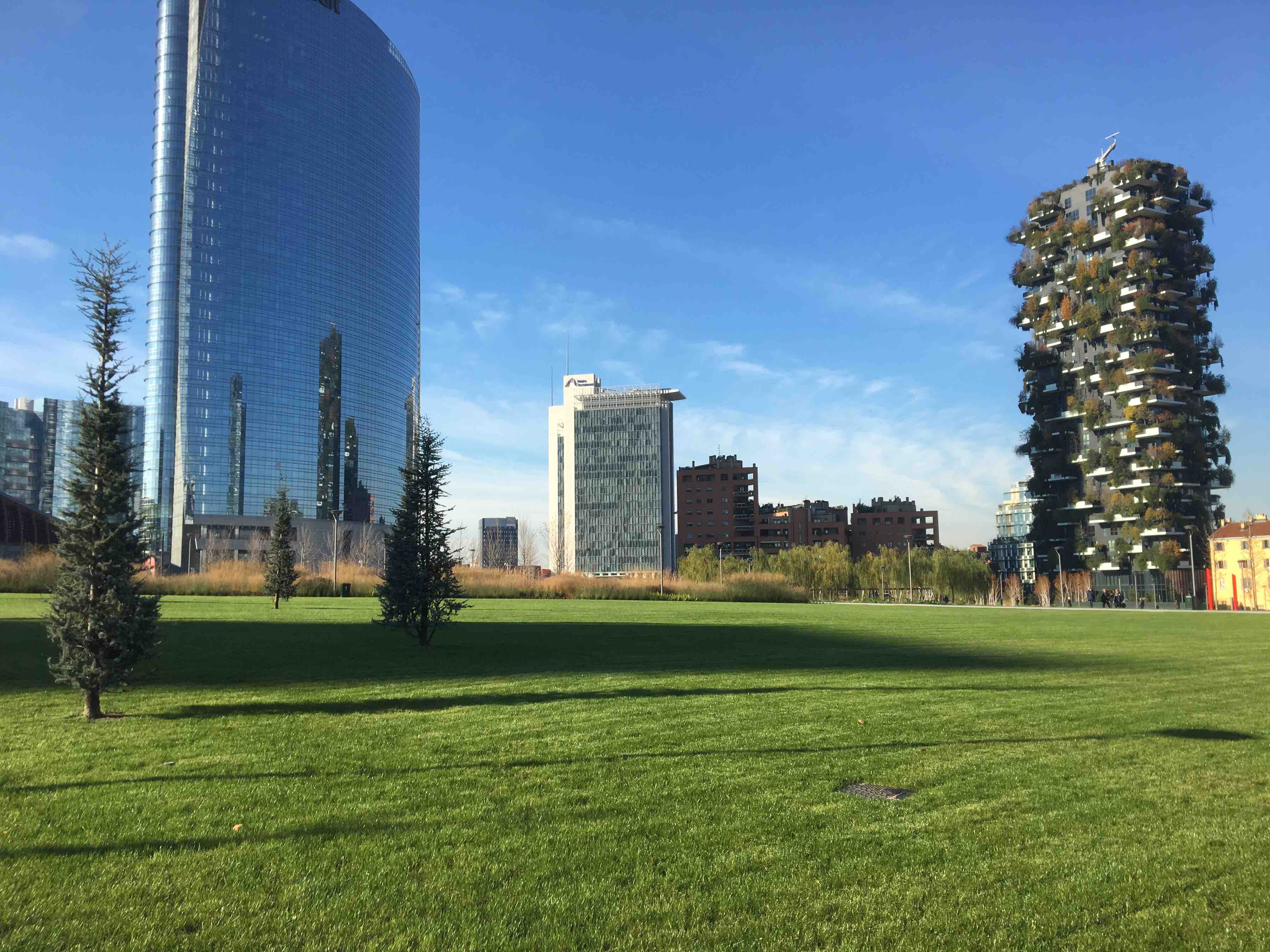 Cedar Area
A 2000 sq.m. grassy space near the Cedrus Atlantica circle for BAM's cultural programme.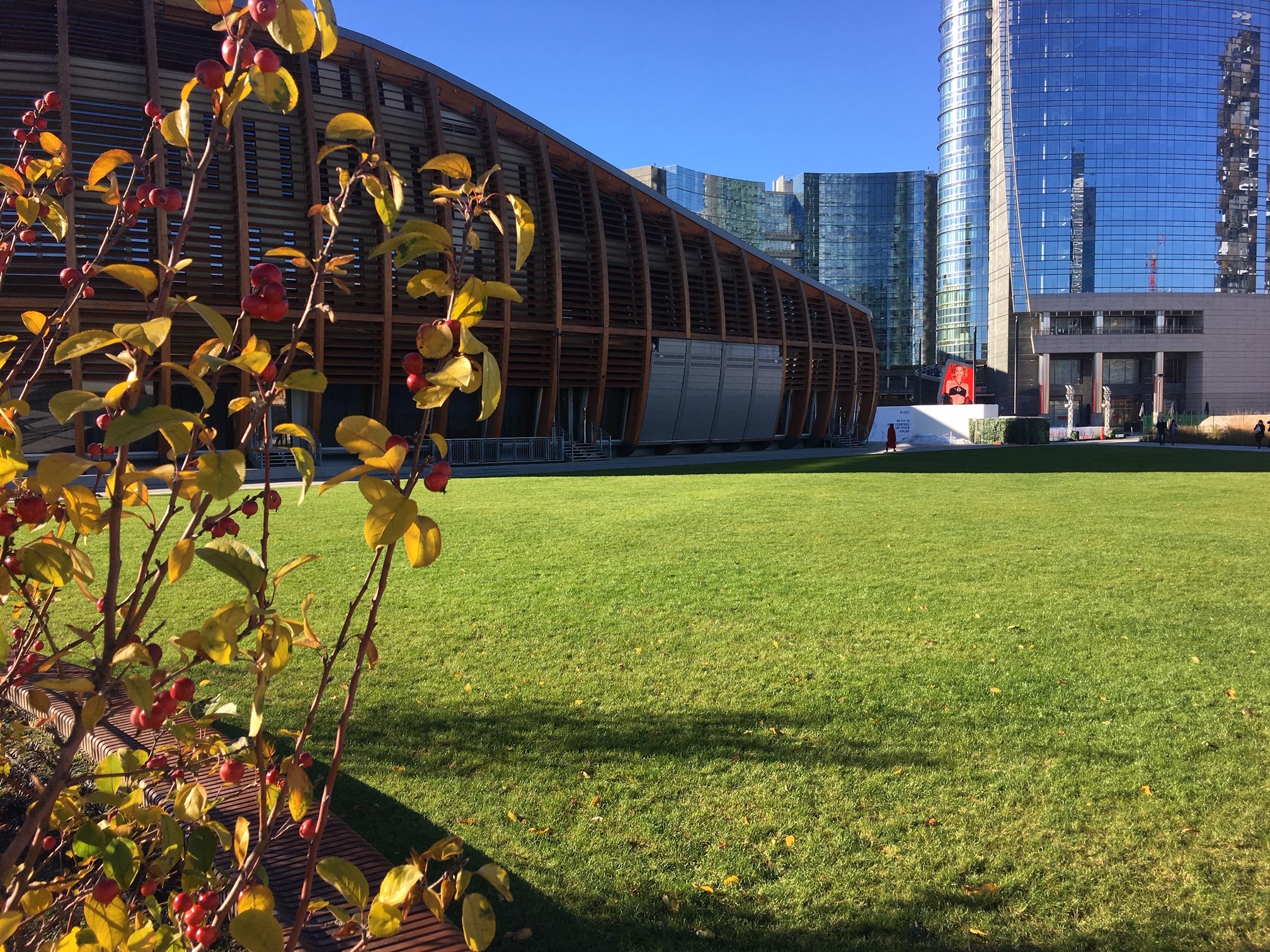 Apple Area
The Malus 'Evereste' events area is located close to Piazza Gae Aulenti and offers a space of 1,800 square metres for the BAM cultural program.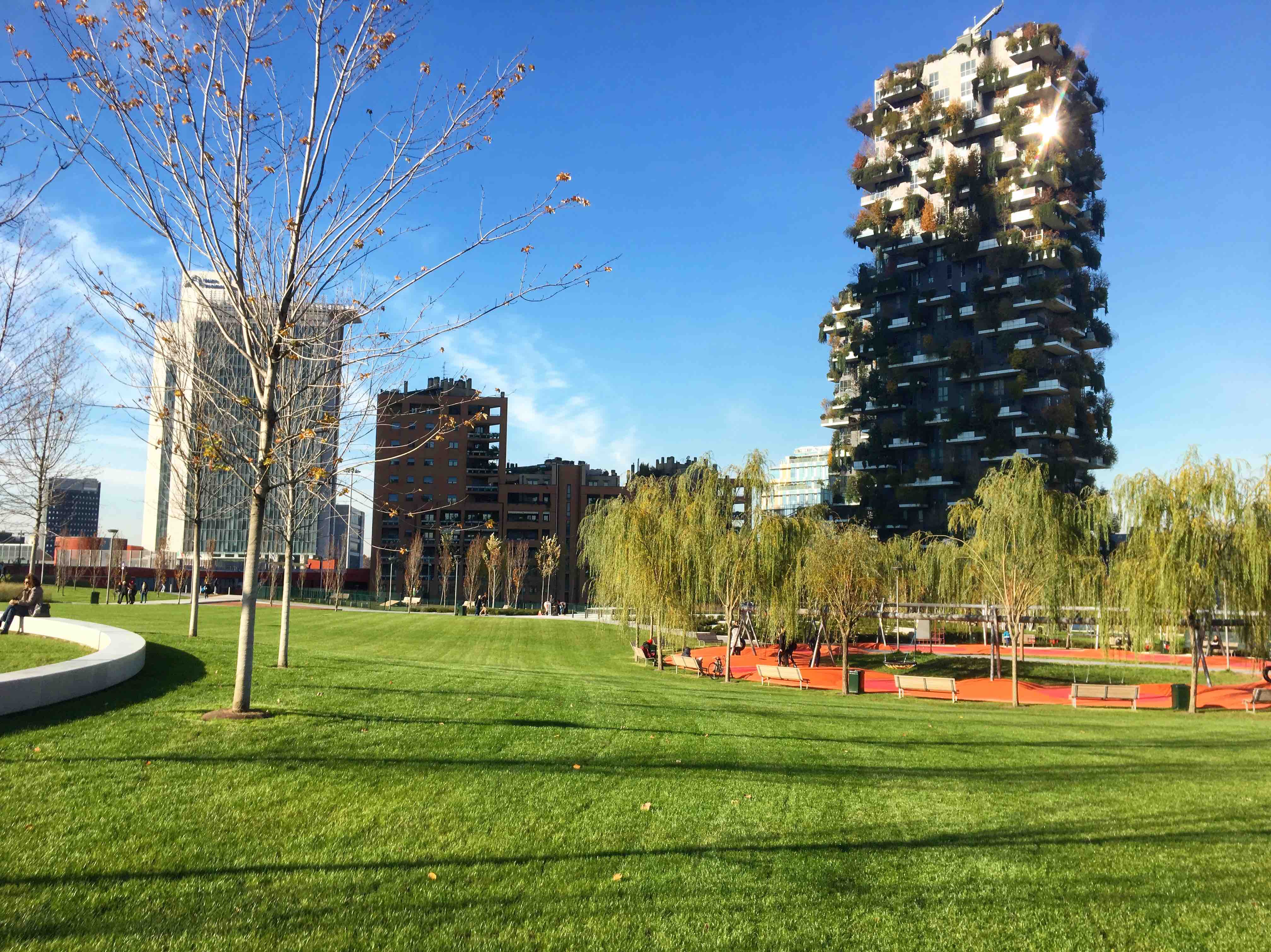 Willow Area
A steep lawn located near the Acer rubrum circle.
A contemporary garden designed as an urban botanical library with rich plant heritage: over 100 botanical species, 500 trees forming 22 circular forests, and 135,000 aromatic plants, hedges, shrubs, bulbs, vines, aquatic plants, and herbaceous plants. To enrich this extraordinary collection, botanical and poetic phrases are arranged on the paths that intersect the park creating a chessboard of green rooms.
Circular Forests
Botanical collection
Respect the park
Look, listen, smell them, but please respect the plants and don't step on them.
The flower and herb rich fields are the ideal habitat for the pollinating insects of our city. Let the plants thrive and respect them, and you'll see an evolving ecosystem.
The lake is home to a developing aquatic ecosystem. Do not put it at risk by entering it or allowing your dogs to enter. The water is not drinkable!
Respect the park
Respect the nature around you.
Keep dogs on a leash.
Do not camp, set up tents, light fires or barbecues.
Do not introduce motor vehicles into the park.
Throw the waste and cigarette butts into the appropriate rubbish bins.
Only use bicycled and roller skates in the provided bordered paths and at a moderate speed.
Do not spoil the ornamental green spaces bordered by fences by crossing them.
Do not carry out travelling commercial activities in the areas of the park.
Do not use sound broadcasting instruments that may disturb public peace.
Do not alter the state of the places in the park.
Porta Nuova is one of the largest urban regeneration projects and has profoundly changed the skyline of the city. The area, the centre of a network linking the Garibaldi, Varesine and Isola districts, today is the symbol of contemporary Milan with numerous award-winning buildings, prestigious business centres, green areas, cycle paths, pedestrianised areas, libraries, museums and spaces for cultural and civic functions.
For a lunch break, a coffee in the shade of the skyscrapers, an aperitif at sunset or an exclusive dinner, visit one of the bars or restaurants affiliated with BAM and get an immediate discount with your BAMFRIEND card
BAM Retail Friends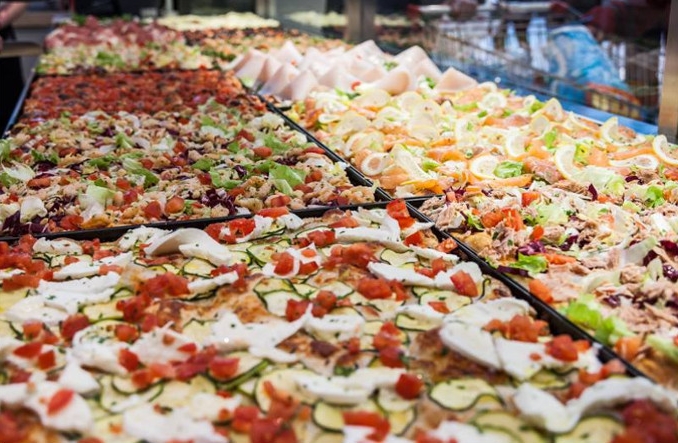 Alice Gae Aulenti
con un minimo di 25 € di asporto ricevi subito 5 € di sconto sulla spesa effettuata
http://www.alicepizza.it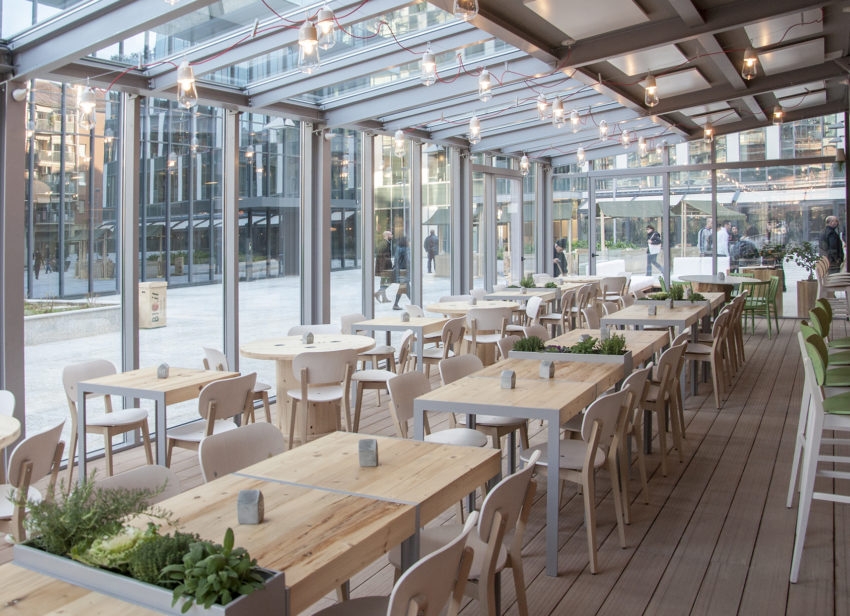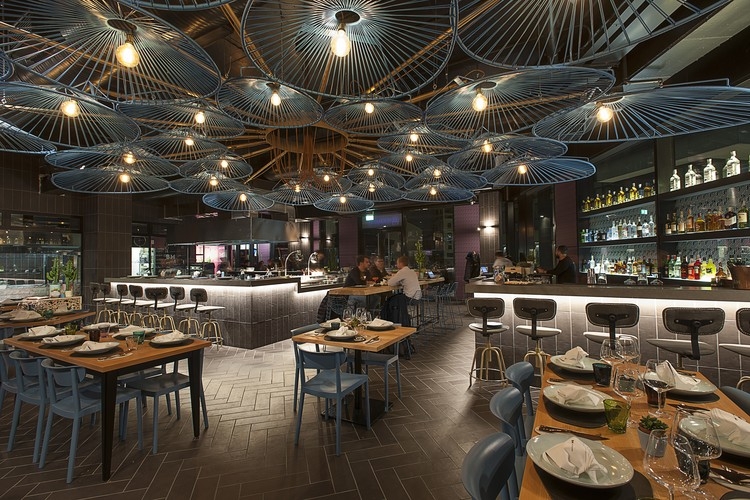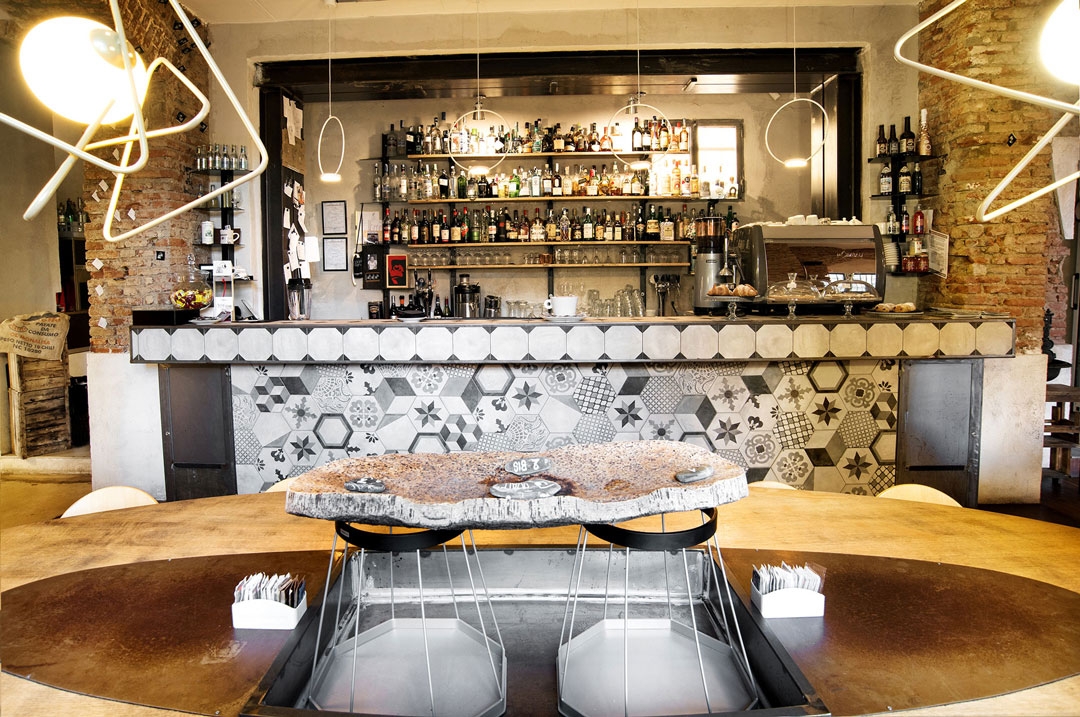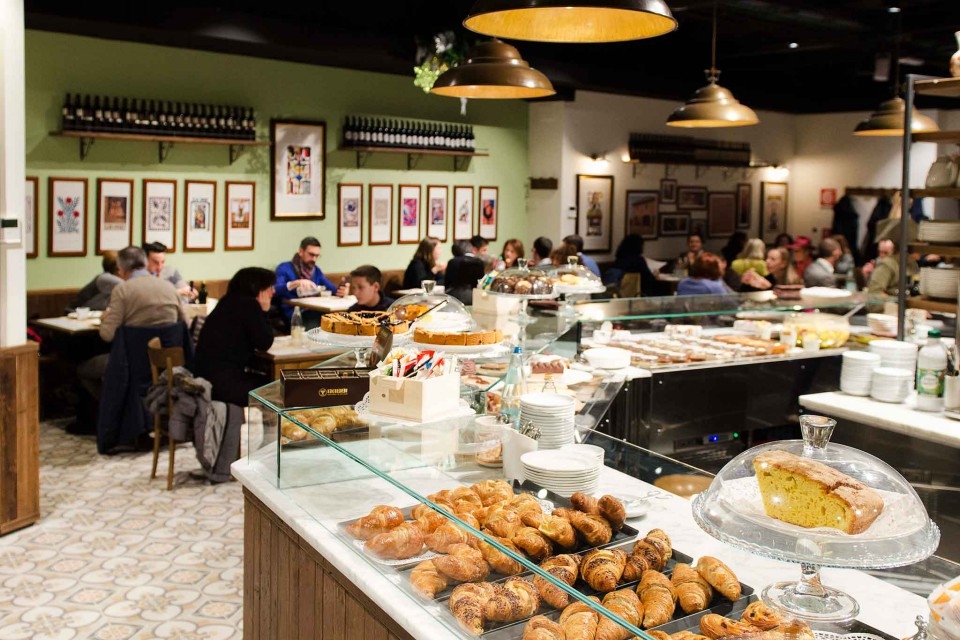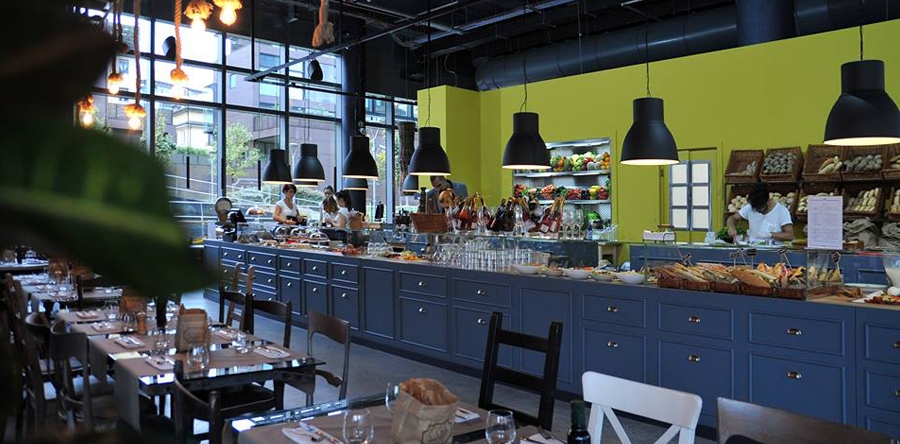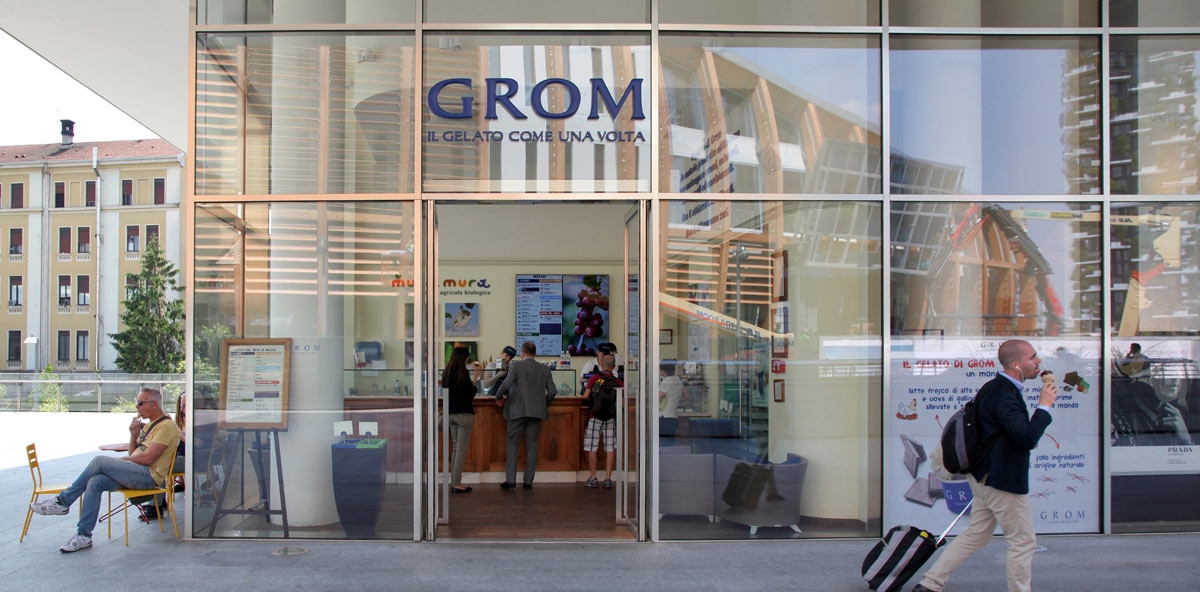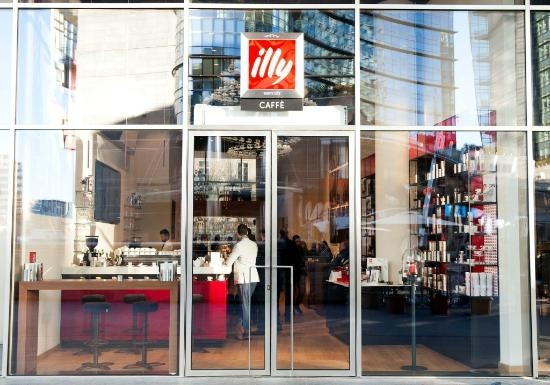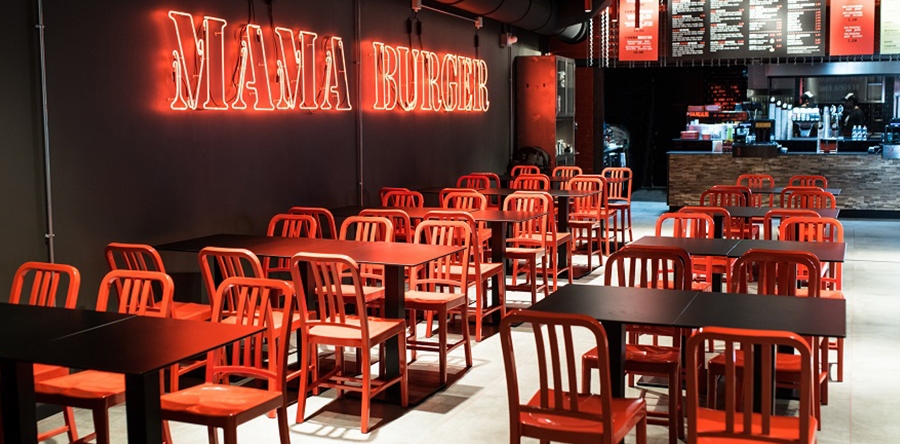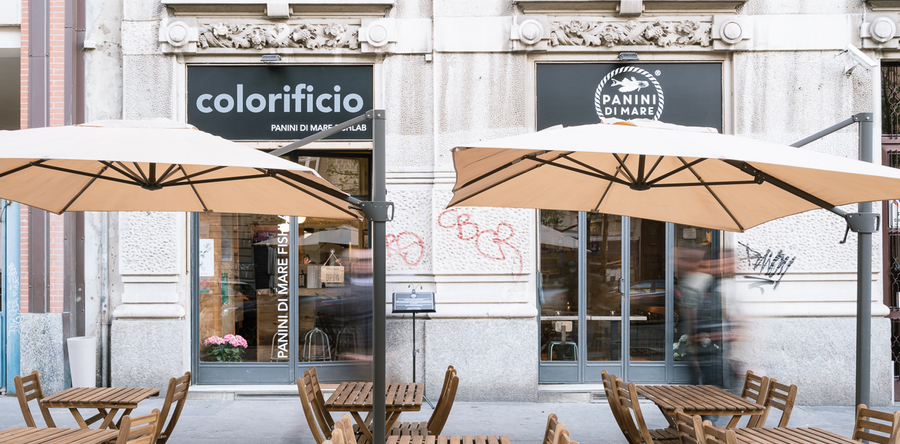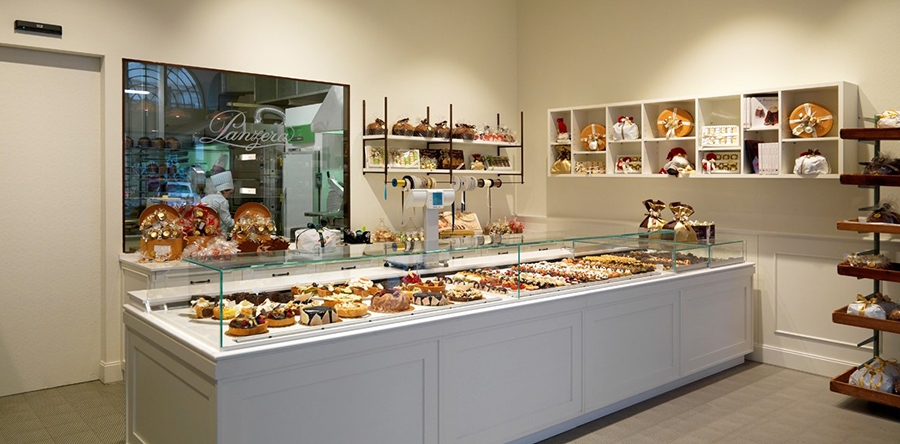 Panzera
10% di sconto sul reparto PASTICCERIA DA ASPORTO (torte, pasticceria mignon, pralineria)
10% di sconto sul PRANZO
http://www.panzeramilano.com/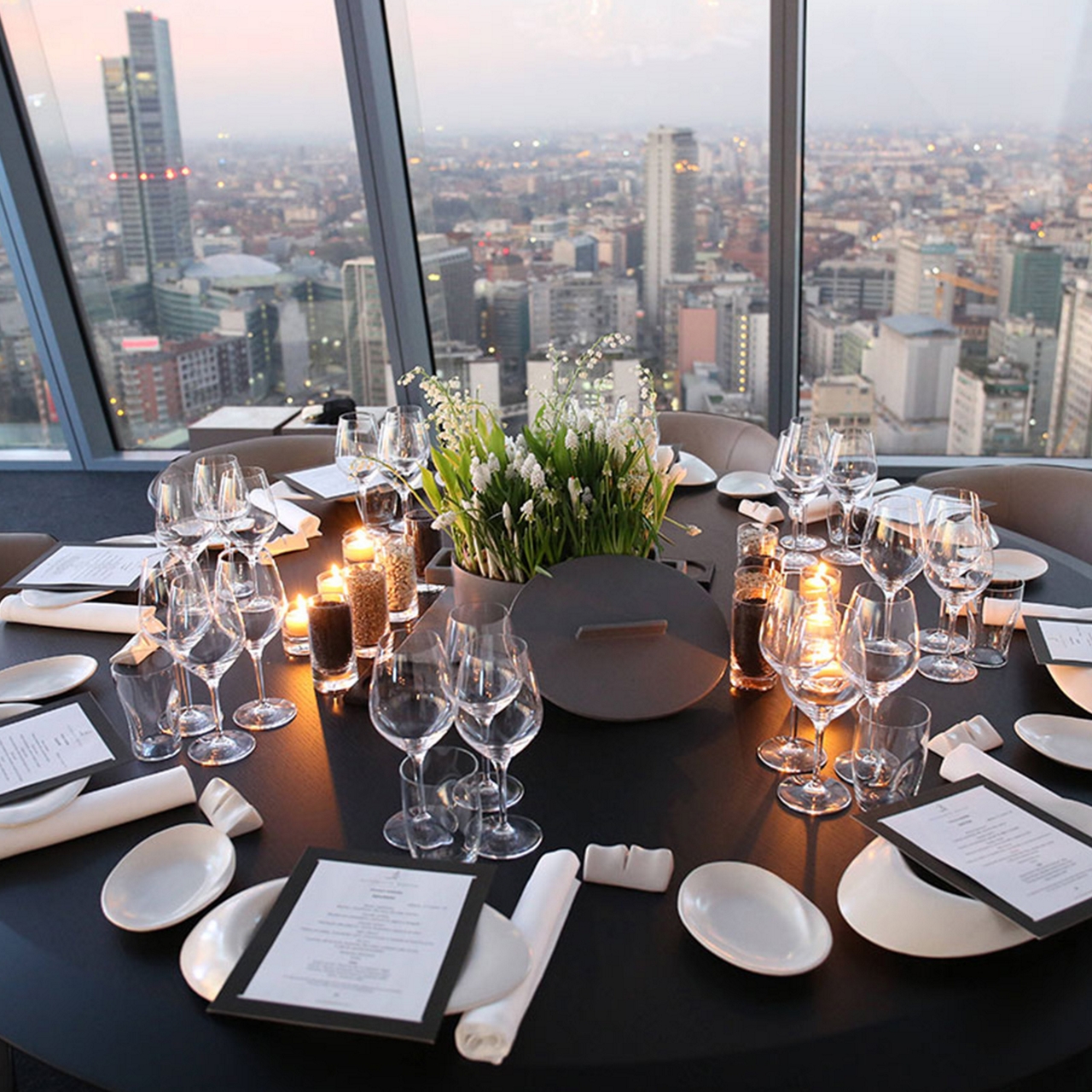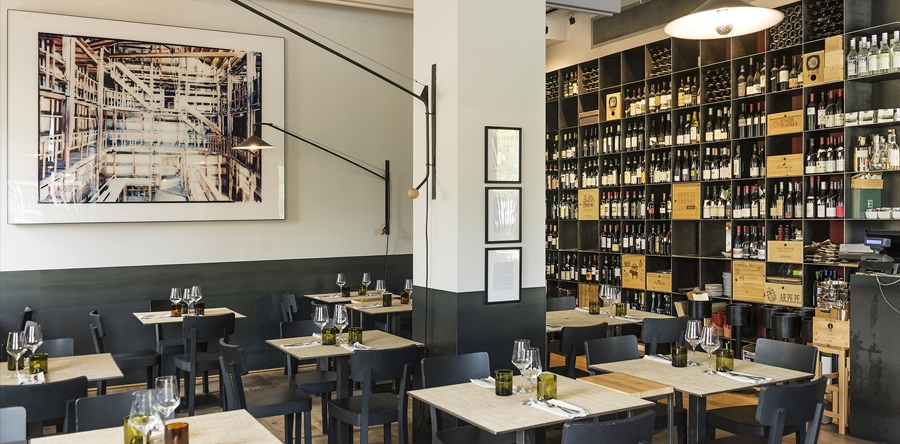 Enjoy an afternoon of sporting activities or shopping in the shops around the park and take advantage of discounts reserved for BAM
FRIENDS
Diventa un BAM
FRIEND
BAM Retail Friends
Park
Attorno al parco:
Porta Nuova